Ruukki Polska Sp. z o.o.
[Polen]
Facades


2020-06-22
Print this page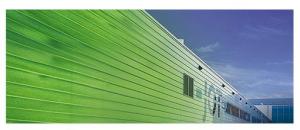 The Fasetti facade lamellas are lamella type profiles made of metal sheets bent on two sides. The bendings and fix-ings create a strong and parallel horizontal or vertical impression. The lamellas themselves create a harmonic, impres-sive and modern image.
The Fasetti lamellas are tailor-made to the dimensions specified by the client. The lamellas have three dimensions: width (length dimension), effective height and depth. Although there are standards for lamella-specific effective heights, in most cases the effective height can be determined by the client as well. The depth is always standard, even though it varies based on the lamella type. Depending on the lamella type, the manufacturing technique allows widths up to four metres.
The vertical joints between lamellas as well the endings are finished with specially designed flashings. Certain lamella types can be extended with a special extension piece. Some lamella types allow two separate lamellas (slanted at 45 degrees) to be combined to make corner-Fasettis for external and internal corners.
Katalog/Branche: Bauwesen -> Metallbau, Stahlbau
Ruukki Polska Sp. z o.o.

Straße:
Jaktorowska 13
Ort:
Żyrardów
PLZ:
96-300
Region:
Masowien
Land:
Polen
Telefon:
+48 46 855 40 51
Fax:
+48 46 855 37 58

---

Kontaktperson

Name und Vorname:
Mariusz Pytel
Telefon:
+48 61 8512307