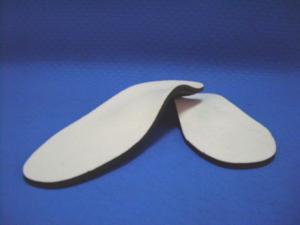 Body-Weight Moldable Custom Insole fits the unique contours of your feet for maximum comfort while standing, walking or running.
Features & Benefits of Body-Weight Moldable Custom Insole:
1. Optional antibacterial top fabric maintains a healthy foot environment.
2. Body-weight sensitive moldable foam conforms to the shape of your feet, providing support and alignment personalized for your unique feet.
3. Cushioning arch and metatarsal support lifts your arch for proper foot position and alignment.
4. Relieve pain associated with plantar fasciitis, heel spurs, tired feet, and aching feet.
5. Easy molding process.
6. Light weight.
Size available:
US Men: 6 ~ 13
US Women: 5 ~ 14
EU: 35 ~ 44
Other important information about Body-Weight Moldable Custom Insoles:
1. For normal foot types.
2. Material: polyester, body-weight sensitive foam, cushion and impact TPE shell.
Caution:
1. Not recommended for those with flat arch, diabetes or poor circulation.
2. Hand wash, air dry.