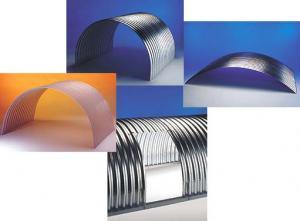 Dear Madam, Dear Sir,
We take pleasure in making you the following offer for deliveries of top versions of belt conveyor covers and conveyor belt bridges at advantageous prices.
The "ACHENBACH" covers have been used for housing the conveying systems because of their high quality and variability for nearly two decades to full satisfaction of the customers all over the world.
We are ready to supply you with standard and non-standard cover opening systems for any conveyor with various surface finish (fired galvanized steel, coloured paint finish acc. to RAL, special plastic coatings, stainless steel, aluminium-zinc coatings and aluminium coatings) according to your requirements at very advantageous prices.
We also deliver covers made of rigid PVC.
Conveyor Belt Covers
- ideal housings for belt conveyors and conveyor belt bridges
- used at demanding operational conditions
- 100 % protection of raw materials and belt conveyors
- against the weather, dustproof
Significant reduction of dust nuisance
Simple installation – maintenance free
Easy access to conveyors for inspection and maintenance
Very long life – very economic pricing
Product Range and Technical Data of ACHENBACH Conveyor Belt Covers made of Corrugated Steel Plate
Material :
• Steel, self-supporting, two-side fire galvanized plate; aluminium plate; stainless steel; rigid PVC ("ORGANIT ")
Corrugation profiles :
• 27/100/80 mm – solid stable profiles for any kind of operation – useful length 800 mm
• 18/ 76/75 mm – especially export profiles– useful length 836 mm
• 70/ 18 – "ORGANIT" plastic covers – useful length 1050 mm
Surface finish:
• steel – fire galvanized, aluminium – zinc or coloured paint or plastic coatings according to RAL
• aluminium – bright standard aluminium or paint or according to RAL
• rigid PVC – standard natural type "Natur" – milky, semi-transparent – and others
Cover Types:
• standard – closed arched
• tilted – with hinges on one side for easy opening
• with permanent viewing-openings – sections – permanent access to exposed places
• with inspection openings 400 x 400 or 600 x 600 mm
• NEW! one-side or two-side "ASS" covers (easy sliding system)
Non-standard customized solutions:
• non-standard dimensions – no extra charge
• 2/3 version with supporting structure – for instance for long ground belts
• JUMBO covers - for covering transporter bridges, with one-side or two-side access floors, enabling passing through the "JUMBO tunnel", double-surface insulation upon request. They can be designed for open spaces for easy and quick covering transport routes or for protecting persons.
• segment covers – covers with side straight haunch consisting of two overlapping parts that can be removed – easy access to the conveyor belt
Standard cover
The classic Achenbach design.
Available in 11 standard sizes for each conveyor belt type. Usually available from stock.