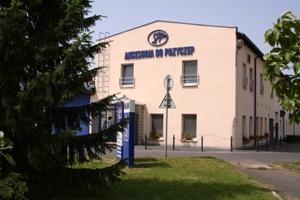 We launched our business in 1967, initially as a small, family craftsman workshop. Through a process of continual expansion, we were able to transform our business from a private company into a limited liability company in 1998. Currently, Steelpress employs about 140 people.
We specialise in the production of spare parts for car trailers. We offer a wide range of in-house produced trailer accessories, such as coupling head (ball couplings), board latches and hinges, floor holders (for fastening loads), car jacks, jockey wheels with clamps, and other trailer accessories. To satisfy the needs of our customers we added the following products to the already existing range of items: wheel rings, trailer axles, inertia brake couplings, trailer winches, mudguards etc.
Steelpress is Poland's leading manufacturer of trailer parts and exports its products to EU countries, Russia, Macedonia, Moldavia, Israel, the Unites States and Ukraine. Thanks to our efforts and long experience, Steelpress has an established position both at home and abroad.
We pay special attention to how we design our subassemblies for luggage trailers, using modern design methods to meet current norms and regulations. We have a dedicated department to produce our tools, equipped with specialist programmes and CNC machine tools. We employ a fully automated plastic and electrochemical working process. The ball couplings we produce have Certificates of Conformity under European Council Directive 94/20/EC, as well as Certification of Conformity under European Council Regulation R-55.
We are mainly interested in establishing long-term co-operation with our business partners. Our customers include: trailer manufacturers, service stations, and companies selling trailer spare parts. We achieve our business goals thanks to maintaining the high quality and security of our products, by offering convenient delivery and payment terms, and most importantly, with our attractive prices. Because we care about the efficiency of our organization, we can meet our customer's demands easily and process orders fast enough to satisfy them.
Come and see what we can offer you.