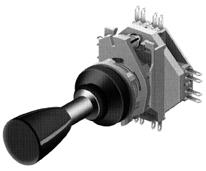 CONTROL SWITCHES MJ
Joysticks (return) are produced in 3 versions:
MJ2 - 2-directions 2x(1NC+1NO)
MJ4 - 4-directions 4x(1NC+1NO)
MJ8 - 8-directions, omnidirectional 4x(1NC+1NO)
Design modular, actuator and switch part separated.
Deflection of stick approx. 12º.
Mounting position: any.
Switching element: with double-breaking spring contacts, self-clearing, contact AgNi 2 μm gold-plated, connection 2,8 x 0,5 mm solder any plug-in terminals combined.
TECHNICAL DATA
Operation temperature: -25ºC ... +70ºC
Protection degree of front part: IP65
Mechanical life: >2x10^6 operations in each direction
Max. connection cross section: 1mm^2
Max. contact rating:
AC: 250V / 6A cosφ=0,7 ... 0,8
DC: 250V / 0,5A
DC: 110V / 2A
DC: 75V / 5A
Mounting hole: Ø22
Colour of operating part: black